Every March the United States celebrates Women's History Month – an annual month declared worldwide that highlights the contributions of women to events in history and contemporary society. This year the Salt Lake Chamber is honoring the extraordinary accomplishments, determination and tenacity of women. Against social convention and often legal restraints, women have created a legacy that expands the frontiers of possibility for generations to come.
Throughout the month of March, the Salt Lake Chamber is highlighting women who are making a difference in Utah business and the local community.
2019 Women's History Month Features
This page will be updated throughout the month of March with Women's History Month Features. Check back for updates.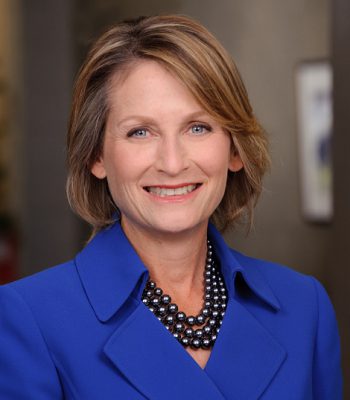 Bethami Dobkin
President, Westminster College
President Dobkin served for the past 10 years as provost and vice president for academic affairs and professor of communication at Saint Mary's College of California, a private, comprehensive, and Catholic university of approximately 4,000 students. She oversaw the academic vision and operational management of the college, with specific responsibility for academic affairs, student affairs, enrollment management, communications, institutional research, diversity and inclusion, accreditation, and technology. President Dobkin served as a commissioner for the Western Association of Schools and Colleges and on the boards of the Foundation for Hispanic Education and Ujima Family Recovery Services.
Lara Fritts
Director, SLC Economic Development
Lara Fritts is the Director of the Department of Economic Development for Salt Lake City. Her responsibilities are to lead the efforts of the Redevelopment Agency of Salt Lake City, Salt Lake Arts Council, and Business Development – the three divisions that make up the department. Lara brings to Salt Lake City over 20 years of experience in economic development, management, and technology. In her most recent past position, Lara was Director of Business Development at Baker Tilly Virchow Krause. There she provided expertise on the utilization of tax credits and incentives to existing and potential clients.
Pam McComas
Complex Manager, Raymond James
Pam McComas, CFP, started her career in financial services with Merrill Lynch and spent 10 years there in various positions before becoming a financial advisor with Smith Barney. Excelling as an advisor with Smith Barney, she was soon asked to consider branch management. Pam was appointed as a branch manager to lead the Cottonwood, Utah, branch for Morgan Stanley Smith Barney and a few years later was recruited to take over the downtown Salt Lake City branch for UBS Financial Services. After spending 20 years working in large wirehouses, Pam is proud to bring Raymond James Private Client Group to Utah as the branch manager and complex director.
Stephanie Palmer
Director of Sales, KSL Newsradio
Stephanie Palmer is the director of sales for KSL Newsradio 102.7FM/1160AM. She manages a team of advertising executives and has the pleasure of helping businesses across the country build successful marketing campaigns utilizing broadcast media as well as a multitude of digital platforms. Stephanie has been with the company for 32 years and has had extensive industry training.
Virginia Pearce
Director, Utah Film Commission
With 20 years of experience in the film industry, Virginia Pearce has been the film commissioner for the state of Utah since 2014. Working closely with the Governor's Office of Economic Development and the Office of Tourism, Pearce has grown the state's reputation as a leading filmmaking destination. She came to the film commission with a goal of increasing production, specifically bringing television series to the state to ensure sustainable growth for Utah's industry. Under her leadership, major networks, including ABC, HBO, Disney Channel and Paramount, have brought TV series to Utah, creating an economic impact of almost $100 million.
Dawn Ramsey
Mayor, South Jordan
Dawn Ramsey's passion for the City of South Jordan stems from her years of service in the community. During her service on the Utah PTA Board of Directors and as Region Director over all schools in the Jordan District, she has spent literally thousands of hours with parents, teachers, administrators, legislators and state organizations advocating for the health, safety, and educational opportunities of every child across the state.
She currently serves on the Executive Committee of the Jordan Education Foundation Board of Directors, working to engage the community and local business leaders to help bridge the gap in education funding, providing resources that enhance educational experiences, strengthen students, and fuel success in Jordan School District. She has also served on the Boards of several nonprofits with nearly 20 years of experience managing and leading large organizations.
Leslie Snavely
Chief Digital Officer, CHG Healthcare
Snavely joined CHG in 2010. Prior to being promoted to this new position, she served as senior vice president of marketing and product management and has also led the company's corporate business development team. She currently serves on the executive board of the Women's Leadership Institute and was named one of Utah Business magazine's "40 Under 40."
Astrid Tuminez
President, Utah Valley University
Dr. Astrid S. Tuminez was appointed the seventh president of Utah Valley University in 2018, and is the institution's first female president. Tuminez brings to UVU a broad and rich experience in academia, philanthropy, technology, and business. Born in a farming village in the Philippine province of Iloilo, Tuminez moved with her parents and six siblings to the slums of Iloilo City when she was two years old, her parents seeking better educational opportunities for their children.
Before assuming her current position, President Tuminez was a world leader in the fields of technology and political science, most recently serving as an executive at Microsoft, where she led corporate, external and legal affairs in Southeast Asia. Tuminez is also the former vice dean of Research and assistant dean of Executive Education at the Lee Kuan Yew School of Public Policy, National University of Singapore, the premier school of public policy in Asia.
Jenny Wilson
Mayor, Salt Lake County
Jenny Wilson serves as the Mayor of Salt Lake County, and previously served as a County Council Member for ten years. She took the oath of office as Mayor early in. Mayor Wilson is a 5th Generation Utahn, born and raised in Salt Lake City. She attended the University of Utah and received her master's degree in public administration from the Harvard Kennedy School.
In 2005, Mayor Wilson was the first woman elected to the Salt Lake County Council.  As a council member, she championed numerous policy initiatives, including ethics reform, criminal justice reform, open space preservation and government efficiency. Mayor Wilson also helped establish the Jordan River Commission and co-established the Salt Lake County opioid task-force.
Recent Blog Posts
During March, the Salt Lake Chamber is highlighting influential women in Utah. By sharing their stories and advice, we hope to bring awareness to the importance of Women's History Month. Nubia Peña is passionate about Women's History Month and the chance to remember and honor the women who came before [...]