Originally published by Salt Lake Chamber in KSL on July 16, 2018
What are THE BLOCKS? Chances are you've already enjoyed Salt Lake's Cultural Core even if you didn't know it at the time.
If you've ever attended a concert, admired a piece of street art, browsed an art gallery, museum or been to a festival in downtown Salt Lake City, you've experienced THE BLOCKS. It's Utah's premier urban arts, cultural and entertainment district.
THE BLOCKS are the gateway to discovering new artists, performance groups, filmmakers, photographers and unexpected delights. Spearheaded by Salt Lake City, Salt Lake County and local arts organizations, THE BLOCKS are a culmination of an eight-year, community-based process to showcase the rich, diverse offerings in Salt Lake.
As a historical reference to our city's unusual big square blocks and grid system, this district helps to package and promote new and existing cultural and artistic experiences for a growing and increasingly diverse group of residents and visitors. Simply put, THE BLOCKS are a game changer for downtown Salt Lake City.
Here are five ways to enjoy THE BLOCKS, Salt Lake's Cultural Core.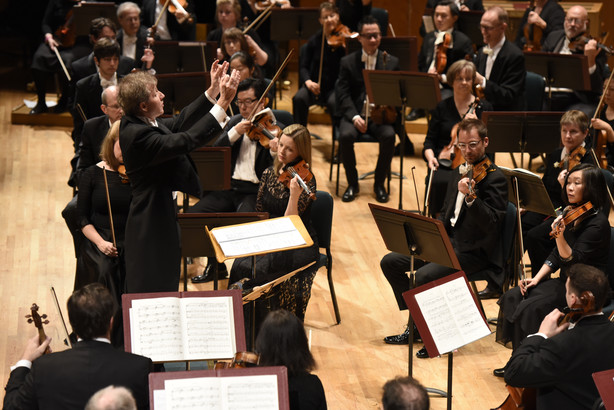 Discover something new
The symphony might be your go-to escape from reality (rightly so). But did you know that select musicians from the Utah Symphony get together and play in unique venues around the city with MOTUS (Musicians of the Utah Symphony) after dark? With THE BLOCKS, you can stay up to date on all of your favorite organizations and artists while discovering something new every week.
Want to know about everything that's going on in THE BLOCKS? Head over to theblocksslc.com for a comprehensive list of concerts, performances, gallery openings, artist profiles and more.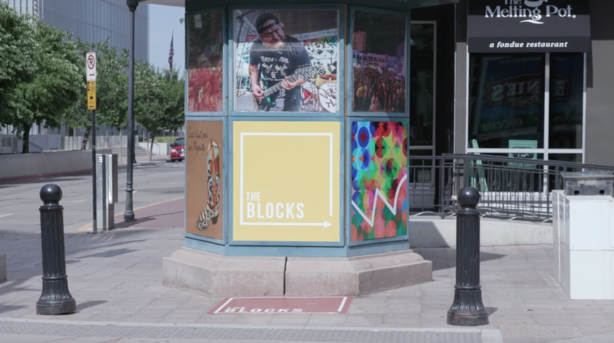 Know you're in THE BLOCKS when
How will you know when you're in THE BLOCKS? After all, it is a 40-block area. Look no further than the ground in front of your feet when you're in downtown Salt Lake. BLOCKS decals, selfie spots, designated busker zones and several other visual installations complement the existing artistic amenities and create a sense of place for visitors who are in THE BLOCKS boundaries.
When you take your picture in front of these works of art and tag @theblocksslc, you have a great chance to win some exceptional BLOCKS goodies and tickets to featured events.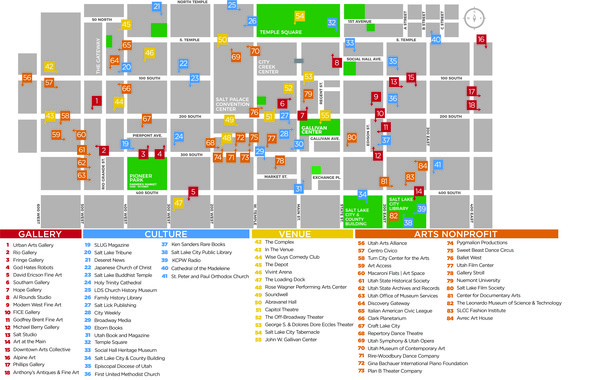 Places
Become acquainted with the highest concentration of venues, arts organizations, murals and cultural assets in Utah. Catch a dance performance at the Rose Wagner, educate the kiddos at Discovery Gateway or enjoy a free concert at The Gallivan Center. Whatever your artistic interests are, rest assured that THE BLOCKS has you covered. Explore all of the venues inside THE BLOCKS with our Arts & Culture Venue Map or at theblocksslc.com.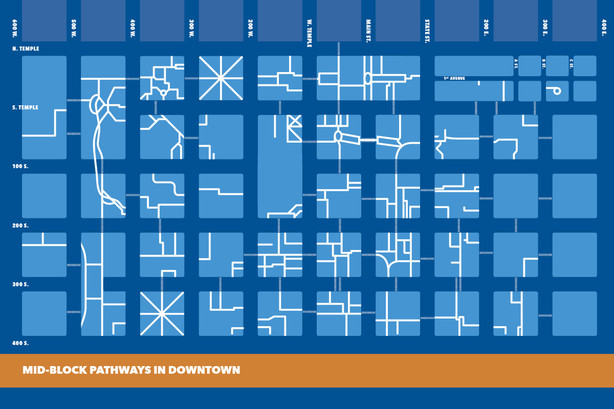 Step off the beaten path
Take a minute to step off the main thoroughfares and you'll be surprised what you find in THE BLOCKS. Large murals, sculptures, niche galleries and boutique storefronts will be your arts partner on your way through downtown. THE BLOCKS are distinct, engaging and offer surprising finds around every corner.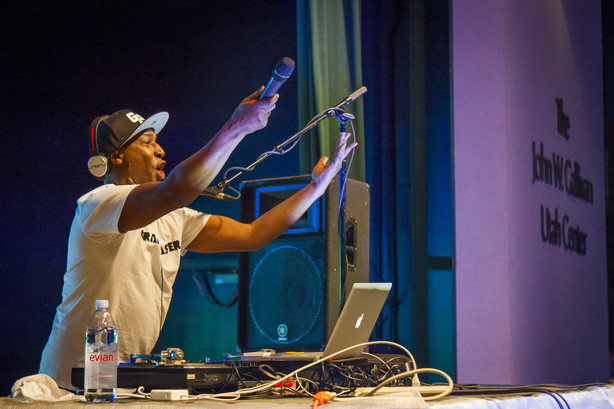 Follow along
Follow THE BLOCKS on Facebook, Twitter and Instagram at @theblocksslc for special giveaways, spontaneous alleyway parties and special events going on in THE BLOCKS. Embrace the wide diversity of cultural and artistic offerings in downtown Salt Lake and create new memories and traditions for you and your loved ones through the power of art.
Originally published by Salt Lake Chamber in KSL on July 16, 2018