On November 2, the Salt Lake Chamber will honor six outstanding businesswomen at the 2023 Women & Business Conference and ATHENA Awards Luncheon. One of these women is Lucy Cardenas, Owner of The Red Iguana Restaurants, who has been chosen as a Pathfinder honoree. Get to know this 2023 Pathfinder by reading below:

What is one thing women can do to help each other thrive?
BELIEVE in each other. That is the one thing women can always do to help each other thrive — believe in other women's desires, wishes and dreams, whatever they may be.
What accomplishment in your career are you most proud of? Why?
I purchased the Red Iguana restaurant from my father in 2005. It is by far the biggest accomplishment of my career. Since then, I have doubled and even tripled its business. I'm also proud of providing job opportunities to almost 200 employees because I believe people want to work and make a living. With Red Iguana, I am able to give all of my employees a place to do just that.
How do you stay resilient in a rapidly evolving business landscape?
As far as the hospitality industry, I actually embrace the old-school way of running a resilient restaurant — providing great service, making great food and paying attention to quality. I believe good restaurants are here to stay. People love going into a restaurant where they will be taken care of by people, not just technology, so that's what I do with the Red Iguana.
What is a skill you have that has most served you in your career?
The skills that have most served me in my career are my optimism and my smile. I'm serious! I reach for optimism from somewhere in the cosmos, and I bring it in. My smile helps — you really do have to remember to smile. I look in the mirror and smile at myself, and it reminds me of my mother, who was the whole reason I took over the family restaurant. I've always known I wanted to do so to take care of my family, and my smile is the easiest way to remember that. 
What are your favorite ways to give back to your community or industry?
I love what we've done by staying in our neighborhood and our community. The Red Iguana is intentionally in Rose Park, and I can't imagine being anywhere else. When my father was struggling to find a new location for the restaurant, after the first one burned down, he took his time finding the perfect place to rebuild, and this is it. Now, 500,000 people come to our restaurant each year, and that benefits our neighborhood and revitalizes the area. It means people come to our area, despite construction or anything else going on. That's why, when we were looking to expand our business, we put our second location close to the first. We help each other, we help the neighborhood and we help our community.
---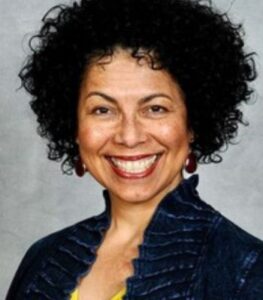 Lucy Cardenas, owner of The Red Iguana Restaurants, grew up in her family's restaurant, The Casa Grande, in downtown SLC. Her parents, Ramon and Maria Cardenas, moved the family from San Francisco in 1965, when Lucy was six and Ramon Jr was four, hoping to give their children a better life. From a very early age, Lucy apprenticed with her parents in every aspect of their family restaurant business. Her early start made it possible for Lucy to go on in her twenties to professionally manage and train staff in nationally recognized restaurants in several metropolitan cities, including San Francisco, Chicago, New Orleans, Houston, Honolulu, Los Angeles, Pasadena, and Portland.
In 2002, Lucy's beloved mother passed away. Then in 2004, her gifted brother, Ramon Jr, the legendary chef of Red Iguana, suddenly passed away. Lucy and her husband, Bill Coker, returned to Salt Lake City to preserve the family legacy, purchasing the Red Iguana, established in 1985, from her father, Ramon Cardenas Sr.
Lucy's goal has been to become a better business owner and contribute to the community she serves. Since purchasing Red Iguana in 2005, Lucy has appeared in national TV shows such as Diners, Drive-Ins and Dives with Guy Fieri, local television cooking segments, and served on the mayor's business advisory board, the Governor's multicultural board and the Tribune board. In 2022, Red Iguana was named Utah SBA Small Business of the Year, and Lucy and Bill were named Utah SBA Small Business Persons of the Year.
Lucy has traveled the world, from London to India, Indonesia, Australia, Tahiti, Mexico, and Africa. She brings a deep understanding and respect for the value of one's culture. Lucy's parents, Maria and Ramon Cardenas, had a passion for their culture and its Mexican cuisine. They relished introducing it to their adopted country. Lucy and company proudly continue that legacy.