On November 2, the Salt Lake Chamber will honor six outstanding businesswomen at the 2023 Women & Business Conference and ATHENA Awards Luncheon. One of these women is Amanda Covington, Chief Corporate Affairs Officer of The Larry H. Miller Company, who has been chosen as this year's ATHENA Leadership Award honoree. Get to know her by reading below:

This year's Women & Business Conference theme is "Thriving in the Hive." What does that mean to you?
I love the theme this year! I have worked in environments where you sometimes feel like you're just trying to survive leadership, your colleagues, the work or the culture. I have also been fortunate to work for strong organizations where each person is supported and celebrated to the extent they thrive. It is a stark contrast: surviving or thriving. As an employee or leader, when you feel valued and know that you add value, there is a magical sense of belonging that empowers you to soar, to take risks and to give the very best of yourself. In Utah, we have incredible companies and organizations whose cultures provide support and possibilities to thrive. I encourage every single person to either find or create that environment for themselves. It's liberating!
What is one thing women can do to help each other thrive?
I love women who don't worry about "turf" or fear other women's success. When we genuinely appreciate and embrace women in our industry or professional path, we allow ourselves to learn and improve, and we create safe places for others to share and grow. The return is exponential. I have several friends and colleagues who constantly create opportunities to connect: spring and fall dinners, service projects, book clubs, mentorships, advice groups, etc. Allow yourself to participate. Make time to learn, play and relax. And when you feel like you have a better footing, sponsor those moments for other women.
How did you overcome any challenges or obstacles you faced on your professional journey?
I process EVERYTHING. I wish sometimes I didn't. But I need to give myself time to think through a problem from all angles. Then, I need to talk about it. I have surrounded myself with trusted family members, friends and advisors. These are people who give me honest feedback and help me correct the course when needed. They support me. They love me unconditionally. I don't think we are meant to go through worthwhile or difficult experiences alone. A memorable moment in my journey was during my executive MPA program. I was struggling to solve a problem at work and couldn't see my way out of it. A classmate, about 15 years older than me, gifted me a large, glass, diamond-shaped paperweight. She encouraged me to look at the problem from all sides and then told me I was "capable and competent." I loved her for that. I repeated those words to myself daily as I resolved the issue. That "diamond" sits on my desk to this day. 
What is a skill you have that has most served you in your career?
I love to learn, especially from stories. When Natalie Gochnour was handing over her post to me as Deputy for Communications for the Utah Governor's Office, she gave me three red wooden apples. They were props from a budget press conference Governor Leavitt had held on education funding. He used the apples to illustrate his story. She reinforced for me that day the power of storytelling to connect with others and to ensure people remember your key messages. My colleagues tease that I am insatiable when it comes to the news. It is part of my job to be aware of news and current events. However, it's more than that. I grew up reading the morning paper with my parents. When I was younger, I read the comics, which evolved into reading articles. At night, we watched the local and national news and weekend documentaries. Today, people get their information through various platforms, and I have expanded my sources. I love consuming news, in-depth articles, podcasts, books and opinion pieces because they expose me to new ideas, human interaction and innovation. I have worked for the government, higher education, publicly traded companies in widely different industries and for a privately held, family-owned business that oversees a diverse portfolio. I have pushed myself to learn about new products, services and technologies. I enjoy researching what I don't know. I am energized by tackling new projects and meeting new people. Experiencing small and large wins in areas where I never imagined builds momentum and confidence to take on the next opportunity. Learning is actionable and limitless.
What are your favorite ways to give back to your community or industry?
I am so blessed. I have had tremendous support and sponsorship from men and women who trusted me and gave me opportunities to stretch and grow. They connected me with the next champion on my journey and the newest friend. I will forever be grateful. I know I have the responsibility to pay that forward, and want to feel the joy of connecting a young professional with a job interview or project. Some of my personal friends and mentors include ATHENAs Gail Miller, Governor Olene Walker, Pat Jones, Natalie Gochnour and Vicki Varela. And I cannot forget those who took a chance on me as professional champions: Steve Starks, John Njord, Tom Warne, Rich Kendell, Jim Wall and Mark DeYoung. I will always strive to bring people together. This is what built my very own foundation.
Next, I love getting outside of myself and helping others. It makes my days go by faster and I sleep more soundly. My grandmother lived in a rural town in central Utah and didn't have much to her name. I watched her and always heard of her stories: taking meat from her own table to a neighbor in need; quilting and sewing for young children to stay warm in the winter; and serving her family with love and tender affection. I have spent a lot of time the last few years working closely with our friends experiencing homelessness, supporting policies to ensure women and girls have access to period products, and loving our refugee neighbors as they grasp hope and the promise of brighter days. Finally, I believe focusing on our families and their safety, success and stability is one of the best things we can do for the community in general. I have loved raising two incredible boys alongside my best friend and partner, Cory. We prioritized giving our boys experiences that helped them establish a sense of self and discover their own passions and talents. We love to serve together, and they have been by our side on many projects that required sacrifice and tenacity. They also went on to find international service projects for learning and growth. Now, as they launch into their own futures and ultimately build their own families, I will enjoy watching them embrace the sweetness of human connection and serving and lifting others.
Bonus: What do you enjoy doing outside of work to unwind and recharge?
I am committed to working out first thing in the morning. I do it mostly to process stress, elevate endorphins and give one uninterrupted hour of the day to myself. I am especially happy when I work out with my husband or friends. When I get home from the gym, I enjoy watering my plants, watching the sun come up, and feeling the fresh start of each day with my two "doodle" dogs by my side. Lastly, I love to travel! Again, learning about people and places keeps me going. I want to make new memories in new spaces with my family and friends. It gives me balance and perspective. And it doesn't hurt if we listen to a little Fleetwood Mac or Country music along the way.
---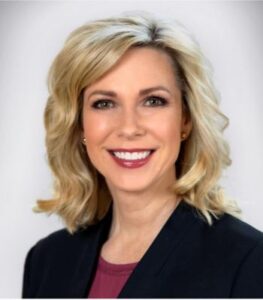 Amanda Covington is chief corporate affairs officer for the Larry H. Miller Company. She previously served as senior vice president of communications and government relations for Vista Outdoor Inc. Amanda has more than 20 years of experience leading corporate communications and government relations strategies impacting financial communications, crisis communications, domestic and international media/public relations, corporate branding and advertising, digital media, employee relations, public policy and legislation, industry associations, and community relations.
Prior to Vista Outdoor, Amanda served as vice president of corporate communications for ATK, an aerospace, defense and commercial products company. Before joining ATK, she was the assistant commissioner for public affairs at the Utah System of Higher Education. While there, she led communications and legislative relations strategies for the State Board of Regents. She also served as the deputy for communications and spokesperson for Utah Governor Olene S. Walker and the director of communications for the Utah Department of Transportation. She has a background in broadcast journalism, working for Utah's NBC and ABC affiliates.
Amanda serves on the Utah Board of Higher Education, is an executive board member for the Utah Women's Leadership Institute, is on the advisory boards for First Lady Abby Cox's ShowUp Utah! initiative and The Policy Project, and serves on the board of directors for the Salt Lake Chamber. Amanda also served as a trustee for Weber State University and Davis Technical College.
She is a graduate of the University of Utah with a bachelor's degree in mass communication from the Honors College and a Master of Public Administration. Amanda enjoys spending time with her husband, two sons, and two dogs.