On November 2, the Salt Lake Chamber will honor seven outstanding businesswomen at the 2023 Women & Business Conference and ATHENA Awards Luncheon. One of these women is Kaitlin Eskelson, President & CEO of Visit Salt Lake, who has been chosen as a Pathfinder honoree. Get to know this 2023 Pathfinder by reading below:
What accomplishment in your career are you most proud of? Why?  
I became CEO of Visit Salt Lake at the age of 37. At that time, I was a young(ish), mom of three kids under eight, trying to achieve my career goals. I'm not sure if I had imposter syndrome or felt like an underdog – probably a bit of both. The recruitment to interview to hire process was intense and long, six months in total. 
I committed myself to spending 30 minutes each day preparing for the CEO position. I researched, hired an interview coach, mapped out my first 90 days, planned my outfits, hair and make-up and made a hype playlist for the day of (Katy Perry!). By the time the interview came around, I had produced a website and magazine to further articulate my vision (Too much?).
In the end, I had given myself a Ph.D. in leading Visit Salt Lake into the future. In doing so, I was clear, calm and confident when it mattered, and IT FELT GREAT! 
What is your favorite book, movie, or TV show? And, why? 
Ted Lasso. The show embodies everything: kindness, humor, emotions and healing around heavy topics such as hope and love – all served up with a side of humor. Not to mention great quotes. My favorite: "Be curious. Not judgmental."
What is your life motto? And, why? 
I was recently introduced to this quote by Maya Angelou: "People will forget what you said.  People will forget what you did. But people will never forget how you made them feel." I think back on my childhood and can still remember the raw moments of "feeling" and, so often, it feels like yesterday.
As a CEO, I have 65 colleagues who depend on me for being transparent, showing up consistently and explaining the 'why' (whether good or bad). I can't control everything, but what I can control is how I empathize and make people feel uniquely heard. I can control celebrating individual contributions and accolades. I can control a culture-driven organization and benefit plan that meets people where they're at in life. And, I can absolutely host amazing company parties (which are the most fun of all)!
What advice would you give to aspiring women entrepreneurs or business professionals?
Hire for personality. Train for skills. Drive, determination, integrity, passion, emotional intelligence, curiosity: those are the traits I look for as I build a team.
How do you stay resilient in a rapidly evolving business landscape?  
Lead without fear of judgment. At Visit Salt Lake, we have a judgment-free zone. We want it all: the creativity, the moonshot goals, the "I don't want to say it because you'll think I'm crazy" ideas. We can only keep up if we evolve, not revolve. This starts with making colleagues feel comfortable and supported to share. We've had some of the best ideas come from informal, throw-it-all-out-there ideation sessions.
---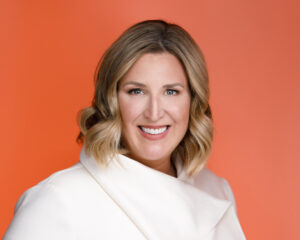 An ardent champion of Utah's visitor economy, Kaitlin Eskelson, President & CEO of Visit Salt Lake has a long and accomplished career in travel and tourism and continues to make profound contributions for the betterment of the industry. Kaitlin is a visionary leader and tireless project organizer, building the right teams to succeed by focusing on major projects to drive both growth of the organization and Salt Lake's overall visitor economy.
From her most recent wins of bringing the Outdoor Retailer bi-annual shows back to Utah, the creation of the partnership for the Cottonwood Connect ski shuttle program, to her skillful navigation of the industry's recovery from COVID-19, she has passionately created programs and strategies to secure a strong future for tourism in Utah.
As Visit Salt Lake's youngest CEO to date, Kaitlin took the helm at the onset of the COVID-19 pandemic and has successfully navigated the recovery of Salt Lake's meeting and convention business through a wide variety of robust strategic initiatives. In fact, Visit Salt Lake just recorded their best booking year ever and has big plans for the future.
Managing multi-million-dollar strategies with Utah tourism marketing promoters through the years, Kaitlin has worked hard to put Utah on the international map. Kaitlin served the state as Executive Director of the Utah Tourism Industry Association (UTIA), was the Director of Partner Relations and International Strategy for the Utah Office of Tourism Film & Global Branding and worked at Visit Salt Lake as Director of Sales and Marketing from 2006 to 2013.