The Business Women's Forum, a program of the Salt Lake Chamber, assists local businesswomen develop professionally and personally, and provides networking opportunities through a series of bi-monthly luncheons and mixers. Every event has a presentation from an accomplished local speaker, thought-provoking roundtable discussions, and spotlights a non-profit organization. Past topics have included mentorship, communication, leadership, and career development.
Ultimately, the goals of the Business Women's Forum are to provide the following opportunities to local businesswomen:
Create authentic networking connections.
Learn about the community and share how we can influence positive change.
Develop professional and personal skills.
Recognize each other for accomplishments.
Upcoming Business Women's Forum Schedule 
Please save the following dates in your calendar.
Tuesday, January 23, 2024: The Daring Way Leadership Manifesto – Exploring Our Deep Need for Connection
Tuesday, March 19, 2024
Tuesday, April 23, 2024
Tuesday, May 21, 2024
Tuesday, July 16, 2024
Tuesday, September 17, 2024
Tuesday, October 15, 2024
Sponsorship opportunities are available, click
here
to view.
Business Women's Forum Steering Committee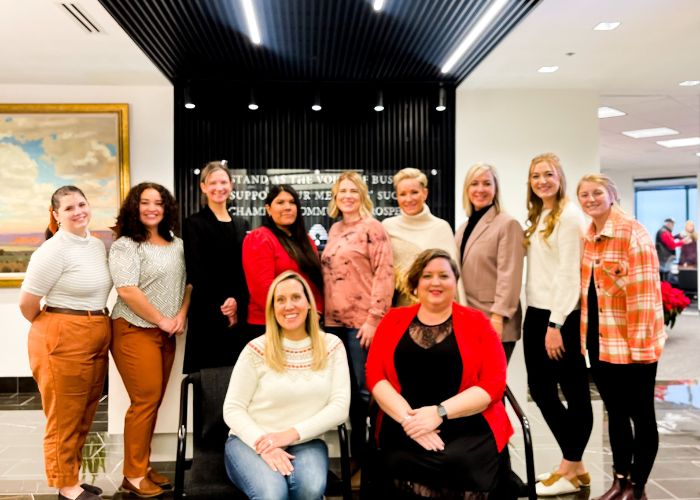 Cidne Christensen – American Cancer Society
Cristine Salazar – America First Credit Union
Diana Young – PrincePerelson & Associates
Jennifer Goodwin (Chair) – Northwestern Mutual
Jennifer Seltzer-Stitt – Salt Lake Community College
Kat Kaddas – Salt Lake Chamber
Kimberly Flores (Vice-Chair) – FulFilled
Leslie Titus-Bryant – Spectrum Solutions
Lori Williams (Past Chair) – University of Utah Health
Lorena Martinez – Hyatt Regency
Lyndsy Blonquist – Intermountain Healthcare
Makaila Kelso – Spherion
Megan Engstrom – Women's Business Center Utah
Nancy Pearce (Past Chair) – Zions Bank
Tara McHugh – Salt Lake Chamber
*If you are interested in participating on the BWF Steering Committee, please apply here.