Resilience. The word sounds positive, powerful and strong. For me, as a feeling, the word 'resilience' brings to mind visions of a warm summer day and the sensation when you point your face toward the sun and feel that perfect warmth of contentment. That's what resilience feels like to me. As I face change and adversity both in my work life and personal life, I strive to get back to that place of contentment and resilience. But what does resilience really mean? The American Psychological Association defines resilience as the process of "successfully adapting to difficult or challenging life experiences, especially through mental, emotional, and behavioral flexibility and adjustment to external and internal demands." 
The term I gravitate towards in that definition is behavioral flexibility. In other words, being flexible with our behavior in the face of adversity. How do we react? How can we change that reaction? Be cognizant of the assumptions and biases you may be bringing along for the ride. The need for flexibility seems to be an everyday occurrence in the world of business and surely without adversity, there would be no need for resilience. 
Over this past year, I watched my sister Brandi start her first business. She is a veterinarian, and the norm these days is for vets to come out of school and work for large veterinary corporations. The era of doctor-owned practices has become a thing of the past, but Brandi was determined to own her own business so she could practice medicine the way she felt was best for her four-legged patients. Her muscle of resilience has surely been tested over the past year as she worked to locate a space, build it out, market to gain new clients and keep herself afloat during the first six months. Brandi had to learn to pivot, adapt and cope with changing circumstances and challenges every day. Here are a few resilience strategies she employed as she ventured into being a first-time business owner:
Learn to reframe – Change the way you perceive the situation. Instead of viewing the situation as something happening to you, depersonalize your assumptions and try to see it from a more helpful perspective. This takes practice, but the more and more you do it, the more natural it will become. 
Focus on where you have control – There are many aspects of adversity that we cannot change. Many times, the only variable we can adjust is ourselves and our reactions. When you are being impacted by adversity in your environment, business or industry, evaluate what you can change. Sometimes there are real levers you can pull to change the trajectory. Brandi knew in the beginning months she couldn't immediately control how many patients she got in the door, but she could increase her marketing, offer new patient specials and work with other clinics to take their overflow. Each of those activities were specific tasks she could control that ultimately led to her client volume increasing to where she needed it to be.
Create coping strategies – Inevitably, you will come to periods where you feel swallowed by the challenge you are facing. To counter this, come up with coping strategies ahead of time to help. Maybe you establish a support system or a personal board of directors that you can go to when you need direction or guidance (the Women's Business Center of Utah offers great resources in this regard). Or you could create a routine of exercise to rev up your endorphins. Brandi opened her clinic within walking distance of her house so she could get in a run every morning on the way to work because she knew she'd be dealing with a huge amount of stress every day. 
Next time you experience adversity, think about how you can incorporate these strategies into your own life. Whether you are starting your own business or dealing with a large-scale change at work, I guarantee resilience is a muscle that will serve you well for the rest of your life.
Do you want to practice resilience and other business skills while networking with other professionals? Join us on October 17th for our next Business Women's Forum luncheon by registering here.
---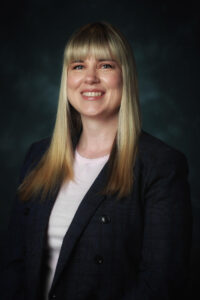 About the Writer: Lyndsy Blonquist
Lyndsy Blonquist is an Assistant Vice President at Intermountain Healthcare, an integrated delivery network (IDN) based in Salt Lake City, Utah. Her current portfolio includes responsibility for the Enterprise Integration and Project Management Office. Lyndsy has worked in healthcare for the past 17 years in roles spanning both payer and provider. At Intermountain Healthcare, Lyndsy has had experience working in several venues, including Payer Contracting, Revenue Integrity, EMR implementation, Information Systems, and Revenue Cycle operations. Lyndsy serves as President for the Utah Chapter of the Healthcare Financial Management Association and a Steering Committee Member for the Business Women's Forum with the Salt Lake Chamber.