OREM, Utah ­­— Utah Valley University (UVU) officials announced today that Elaine S. Dalton, Scott C. Keller, and Duff Thompson will receive honorary doctorate degrees at the university's commencement on May 4, 2023, along with the commencement keynote speaker, Brandon Sanderson.
Sanderson will receive an honorary degree in humane letters, Dalton will receive a degree in public service, and both Keller and Thompson will receive degrees in business. The honorary degrees will be presented during the commencement ceremony at 6:30 p.m. in the UCCU Center on UVU's Orem Campus.
"Elaine, Scott, and Duff epitomize UVU's values," said Astrid S. Tuminez, president of UVU. "Elaine and Duff served boldly and effectively as chairs of UVU's Board of Trustees. Both navigated the university through a presidential search and transition and demonstrated exceptional care by focusing their efforts on first generation students.
"Scott reflects the grit, ingenuity, and generosity of UVU's student body. Not only did he forge a successful career in real estate development, but through his gracious support, UVU has a new home for the state's largest business school. They have all personally donated their time, energy, and resources to strengthen UVU and help our students succeed. We are proud to honor them."
Elaine S. Dalton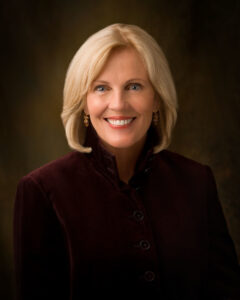 Elaine S. Dalton is well-known in Utah and at UVU. She is best known for serving as the 13th president of the General Young Women Presidency of The Church of Jesus Christ of Latter-day Saints from 2008 to 2013. Most recently, she served as the UVU Board of Trustees chair and currently serves as the president of the Stella Oaks Foundation, a nonprofit organization that works to provide scholarships for single mothers.
Dalton enjoys the outdoors, hiking with her family, and dancing with her granddaughters. She has run 17 marathons and qualified for and completed two Boston Marathons. She is the author of three books for women and young women and speaks to groups of young women and women about their identity, potential, and purpose.
Dalton was born and raised in Ogden, Utah. She received a bachelor's degree in English from Brigham Young University. She later married Stephen E. Dalton, and they are the parents of five sons and one daughter. After 50 years of marriage, they find themselves surrounded by 21 blond-haired grandchildren! She says the most important titles she ever held are that of wife and best friend to her husband, mother to six magnificent adult children, and grandmother.
Elaine Dalton was appointed as a Trustee in July 2013. She was born and raised in Ogden, Utah. She graduated from Ogden High School. Her freshman year she attended Weber State College and subsequently Brigham Young University where she earned a Bachelor of Arts degree in English and a teaching certification in secondary education.
Scott C. Keller
Scott C. Keller is CEO of Keller Investment Properties in Centerville, Utah, and chairman of The Bronze Buffalo Club Companies, which includes Teton Springs Golf Club and Resort in Victor, Idaho.
Keller's career began as a white-water river guide navigating all major western rivers, including the Colorado River through the Grand Canyon. His guiding years deepened his love for nature and outdoor recreation.
From 1977 to 1983, Keller worked for a national transportation and logistics company, where he directed the organization's business in five states and was honored for his expertise and service. He later shifted his focus to his growing real estate holdings.
For the next 35 years, he became one of the largest single-private apartment owners in the Western U.S. His investment portfolio has grown to include communities in four states, providing homes for thousands of families and students.
Keller serves on the National Advisory Board for UVU's Woodbury School of Business. UVU honored him by naming the new business building after him in January 2022. He has also served in many nonprofit and public service organizations.
Keller and his wife, Karen, were married in September 1976 and live in Bountiful, Utah. They have five children and seventeen grandchildren and counting. He studied business at the University of Nevada at Las Vegas, Utah Tech University, and Brigham Young University-Idaho.
Duff Thompson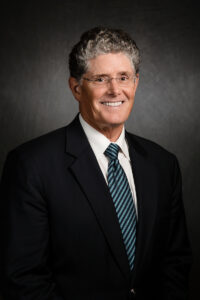 For 29 years, Duff Thompson has been a managing general partner of EsNet, Ltd., a Utah-based private investment firm active in the real estate and technology industries. He has served on several philanthropic and corporate boards for private and public enterprises, most recently as chairman of the board of Qualtrics, Inc., from 2012 to 2019.
In 2013, Thompson was appointed to UVU's Board of Trustees, where he served for eight years as vice chair and chair. Thompson holds a bachelor's degree in economics and an MBA from Brigham Young University. He received a law degree from Brigham Young University's J. Reuben Clark Law School.
Thompson said his most important and enduring negotiation was persuading Sharleen Olsen to marry him nearly 50 years ago. They have seven sons and 18 grandchildren.
Duff Thompson New UVU Board of Trustees Portraits August 07, 2013 (Jac Scott, UVU Marketing)