The first thing Salt Lake Community College President Deneece Huftalin did when she came on stage to speak to the Business Women's Forum was tell everyone to close their eyes.
Obediently, the dozens of women attending closed their eyes as Huftalin continued: "Now, when you feel a tap on your head, open your eyes, stand up and walk around."
After a few minutes of these instructions, Huftalin invited everyone to open their eyes and look around, inviting them to notice that while everyone was waiting for someone to tap their heads, no one had gone around to do so. 
"Why didn't you tap your own head?" Huftalin asked. "This game is a parallel to your life. As women, we often do not tap our own heads."
As a person with a doctorate in qualitative research, President Huftalin explained that she likes to gather input from others whenever she is asked to speak. In preparation for the Business Women's Forum event, she reached out to 20 influential women leaders in Utah.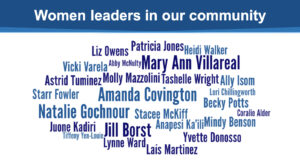 "This is a group of women I know quite well. Some of them are colleagues, many of them are friends," Huftalin explained. "Out of the 20 people that responded, almost all of them had felt limited by others or themselves in their careers. So if you are wondering why you didn't tap your own head, I will tell you: you are not alone."
Huftalin also asked this group of women the characteristics they thought were the most important when defying those limitations — limitations projected by themselves or others based on their gender, race, age, religion or any other factor. The group had lots of advice: "Focus on core competencies," "Be brave and scared at the same time," and "Seek out strong mentors." Combined, their thoughts could be broken down into three categories: confidence, connections and courage.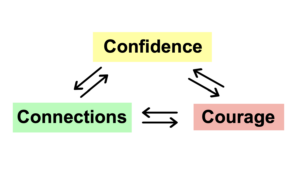 Looking back, Huftalin said, each of those categories played a part in getting her to where she is now as president of SLCC. She was hired at the institution in 1992 as the director of academic advising, then moved between several other roles until she was appointed as the vice president for student affairs. She happily and confidently served in that position for over a decade; that is, until she was asked to be the new university president. She said no.
When they invited her to start as the interim president instead, Huftalin reluctantly agreed.
"I had the courage to say yes to that invitation mostly because it was an interim role, and I knew I could suck at it," Huftalin said. "I was really confident in my institutional knowledge, and I had a ton of connections telling me to do it. So I built on each of those constructs in my journey to the presidency."
Those constructs — confidence, courage and connections — are not often innate, Huftalin explained. For each one, there are ways to practice, improve and build upon prior skills. And as one skill gets stronger, the others will follow. Each can be improved with hard work.
"Start by performing where you are," Huftalin advised. "You will get to where you want to go if you perform where you are because people will notice you, and they will make way for you. You get a win, you get more confident, you do something else that's great, you get even more confident. It's just this wonderful upward spiral."
However, even when a person has all three characteristics and finds themself to be successful, they can still stagnate. Huftalin referenced a book called The Pit of Success, which reminded her of her hesitancy when making the leap from interim president to permanent president. The pit of success, Huftalin explained, happens when you feel confident in your current situation but are then asked to take on a new, more intimidating challenge.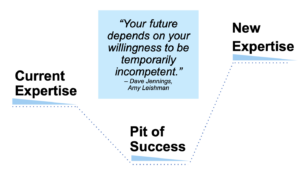 "'Your future depends on your ability to be temporarily incompetent,'" Huftalin read from the book. "The idea of the permanent presidency was so new to me, and it was a stretch to get there. I had to be temporarily incompetent. But I'm here to tell you that there's a way to get through the pit."
With a little confidence, courage, and lots of support from her connections, President Huftalin did get through the pit. She was appointed as the eighth president of Salt Lake Community College in September 2014 and has faithfully served the college in that role ever since. Her leadership has led the institution to increased student enrollment, industry partnerships and education innovations.
Huftalin ended by inviting the audience to challenge themselves and use confidence, courage and connections to overcome their personal challenges and get out of the pit of success.
"I have been surprised to learn that when doors open, there are more doors ahead that I never knew existed," Huftalin said. "Have the courage to open one door."
The next Business Women's Forum is on October 17th and will feature Marian Janikula, Executive Recruiter at Intermountain Health. Register for the event here, or learn more about the BWF program by visiting its website.