According to the U.S. Small Business Administration, small businesses make up 99.9% of all U.S. businesses. What's more, Utah has been credited as the most pro-small business state in America, thanks to our state's pro-business initiatives and support systems. Each month, the Salt Lake Chamber will highlight a small business in Utah to emphasize its importance in our economy and encourage local support.
Five years ago, Fawn and Brad Berrett decided that they wanted to spend their retirement doing something they loved. A former finance professional and house flipper, respectively, the couple knew that they had the skills to run a business — their only question was how. Then, they learned about Nothing Bundt Cakes.
Nothing Bundt Cakes was originally founded in 1997 by Dena Tripp and Debbie Shwetz in their Las Vegas home kitchens. Their popularity grew, and the organization decided to begin franchising in order to keep up with demand. Fawn and Brad saw opening a Nothing Bundt Cakes bakery as the perfect opportunity to own their own business and help their community at the same time. 
"Our business is a great avenue for doing good in the community," Fawn said. "We actually donate cakes every single day. We just pick at least one place every day that we feel could use a pick-me-up and a sweet treat."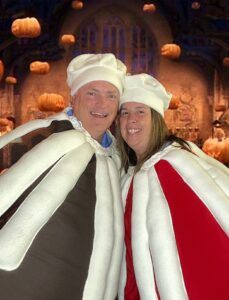 They began in Bountiful, but in January of 2023, they were finally able to open a brand new storefront in the area they had always wanted: Salt Lake City. Not only was it the city where Fawn and Brad first began dating, but it is also home to several of their favorite nonprofit organizations. The couple explained that because they are retired small business owners, they have the luxury of focusing less on profits and more on supporting the people and causes around them they care about. 
"If we can brighten someone's day — and there's a lot of good things we can do as a bakery — it makes us feel good to do it. It's very rewarding," Brad said.
For example, the Berretts' daughter once had to be hospitalized for nearly a month due to health complications. Now that they own a Nothing Bundt Cakes business, Fawn and Brad have chosen to donate cake and to provide assistance in fundraising for places like the Ronald Mcdonald House Charities which supports families with sick children. As small business owners, the Berretts get to personally choose the causes they help support through fundraisers and cake donations, and their list is not a short one — the Hope Lodge, Hogle Zoo and Primary Children's Hospital are just a few of their favorite nonprofits to support.
Since joining the Chamber, Nothing Bundt Cakes has also been able to partner with its Business Women's Forum program, a series of bimonthly luncheons that provide networking opportunities and professional development to women in business. Each event raises money for a nonprofit organization, and Nothing Bundt Cakes increases donations by selling cakes and donating a portion of their profits as well.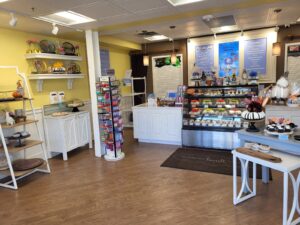 "People buy cakes for personal consumption all the time, so if they do it at a fundraising event or through a donation page, some of their money will go to that organization," Brad explained. "It's a great avenue for doing good in the community."
Fawn and Brad credit the Chamber for many of their event opportunities and contact creation since opening their new storefront. For many small businesses, connecting with other organizations for exposure opportunities takes years. Thanks to their involvement with the Chamber, though, Nothing Bundt Cakes SLC was able to expedite that process.
"There are so many opportunities within the Chamber, and we've only just scratched the surface," said Fawn. "They are super supportive of us, and it's a great place to meet high-quality people."
Nothing Bundt Cakes SLC provides handcrafted cakes in a variety of delicious flavors and sizes for every occasion. Click here to support their small business.