The Salt Lake Chamber's annual Washington, D.C. Trip is an extraordinary, high-level networking, educational and policy development opportunity. This trip brings together Utah's business leaders with members of our federal delegation and other policy and business groups headquartered in the nation's capital.
Salt Lake Chamber 2023 Washington, D.C. Trip
September 26 – 29, 2023
The three-night, four-day Washington, D.C. Trip includes an unmatched itinerary with special tracks designed to fit a variety of interests. This trip is recognized as one of Utah's leading legislative trips to the nation's capital, featuring small group advocacy meetings, senior level briefings and exclusive special events.
The trip also serves an important role in the Salt Lake Chamber's public policy efforts. The trip builds on the Chamber's year-round legislative advocacy efforts on the federal level. This document is a consolidation of key federal priorities included in the Salt Lake Chamber's Public Policy Guide, priorities expressed by the Board of Governors and key legislation being advanced by our federal delegation. It is updated before every Washington, D.C. trip.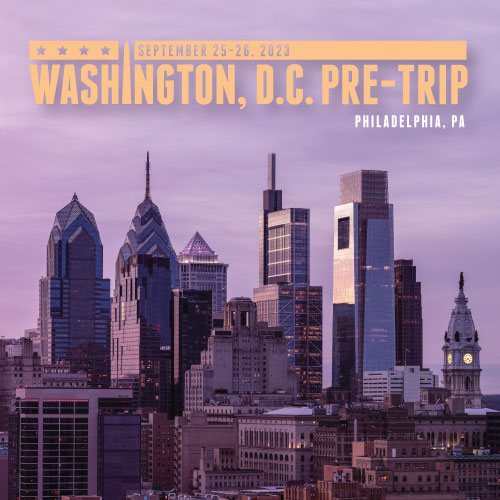 Join us for the Salt Lake Chamber's Washington, D.C. Pre-Trip to Philadelphia, Pennsylvania, September 25-26, 2023. Philadelphia is known for the Liberty Bell, Philly Cheesesteak, and United States history. Philadelphia is in the Southeastern corner of Pennsylvania, sitting alongside the Delaware River.
Pre-Trip: Philadelphia, PA
September 25 – 26, 2023
Philadelphia is known for its extensive contributions to American history, especially the American Revolution, and for its contemporary influence in business and industry, culture, sports, and music. Philadelphia was founded in 1682 by William Penn, an English Quaker and advocate of religious freedom.
While historical attractions abound in Philly, Independence Hall is where the nation was founded. In 1776, the Founding Fathers signed the Declaration of Independence in the building's Assembly Room.