Utah's Housing Gap is Only Getting Bigger
Watch to learn more about what's causing the Housing Gap and what's being done about it.
For the first time in 40 years, more Utahns are in need of a home than there are homes available.
Over the last ten years a 54,000 gap has accrued between the number of Utah families or individuals needing housing and the supply of housing units. The gap is likely to expand in the next few years.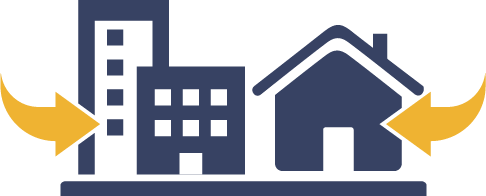 All three housing markets are strained: existing homes, rentals and new construction.
Utah's population has DOUBLED in the past 30 years, and is set to double again by 2050.
Since 2010, Utah has added four new households (families) for every three new housing units.
How It Affects You
Higher cost. Less availability.
Let's Close This Gap Together
By working in unison we can solve the state's housing problem and help Utahns achieve what they want most:
More housing for young adults, growing families and seniors.

Housing options for teachers, nurses and firefighters near their workplaces.

Better air quality and less traffic congestion.

Give future generations a great quality of life.
Peaceful, safe neighborhoods.

Homes close to family and friends.

Open space for parks, trails and play.

Close proximity to schools, health care and other essential services.
The Solution
We need more housing units to close the gap.
Local policy decisions can help close it by
Adopting zoning that allows for a wide variety of housing types and prices.

Evaluating cost-prohibitive impact and permit fees.

Supporting multi-use land development.
Do the following to ensure your voice is heard
Talk to your elected officials.

Work alongside people with opposing views to find reasonable solutions.

Tell your representatives that you want diverse housing options for every stage of life.
Gardner Business Review: What Rapidly Rising Prices Mean for Housing Affordability
The Housing Gap Coalition is in direct response to a new study, commissioned by the Salt Lake Chamber and conducted by the Kem C. Gardner Policy Institute, which shows the rate that housing prices are increasing in Utah will threaten our cost of living, economic prosperity and quality of life. Unchecked, average Utahns will be priced out of our housing market in 26 years. Already, Utah housing is more expensive than some of our top competitor cities in economic development.
The study shows that actionable steps can be taken like:
Adopting zoning that allows for a variety of housing types and prices, meeting the needs of Utahns at all stages of life.
Improving cost-prohibitive impact and permit fees.
Supporting multi-use land development.
Help Us Solve Utah's Housing Problem
The Housing GAP Coalition is seeking partners to safeguard our state's economic prosperity and help us achieve our mission: Unify Utahns to ensure home ownership is in reach and housing affordability is a priority, protecting our quality of life and expanding opportunities for all.
For more information and to learn how you can get involved, contact our policy team at policy@slchamber.com.
To learn more about the housing gap, Click Here.